COZY CAMPER TRAILERS
Please contact housing@bhaktifest.com if you are interested in booking any of our onsite-RV campers.
All models are AIR CONDITIONED
They are fully refurbished and renovated, with a variety of bed configurations.
No kitchens or bathrooms, but they have a gravity flow sink for brushing teeth and washing face and hands.
Power outlets, lockable doors, and did we mention they are AIR CONDITIONED ?
Festival tickets are not included in the rental price.
---
  
Alladin
Great curves, tall ceiling, dreamy blue interior, with one queen bed and a love seat. The Alladin has embraced its new high desert home after years of living in the Sierras outside of Quincy.
---

Aristocrat
Pretentious in name only, the inside is down home sweet. One queen, and a couch that could sleep one.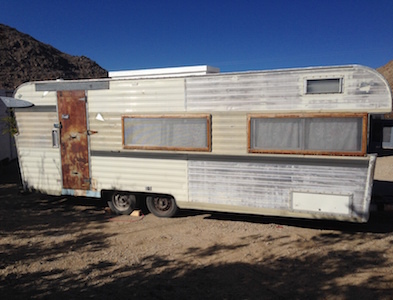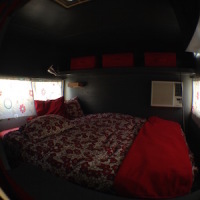 Fireball
Spacious, queen sized bed, closets, kitchen table with two benches and a day bed sofa. The Fireball is a music festival veteran, having travelled a few summers on the road with JavaGogo.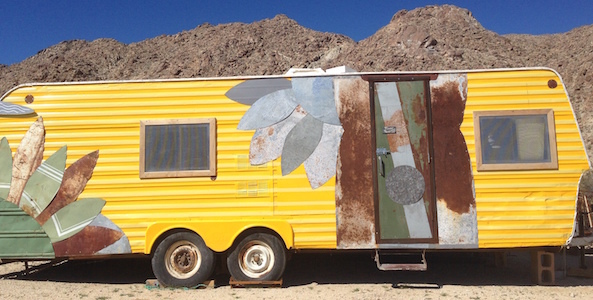 Flower Power HQ
Rescued from Dick the Butcher, this mobile monster has taken on a new life as World Headquarters, a rolling production office.  Flower Power is in use during JTMFs, but available for rent the rest of the year for other events.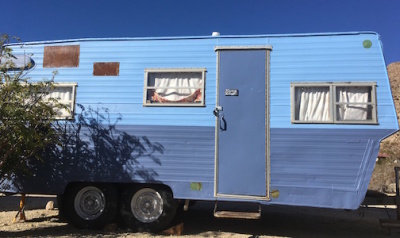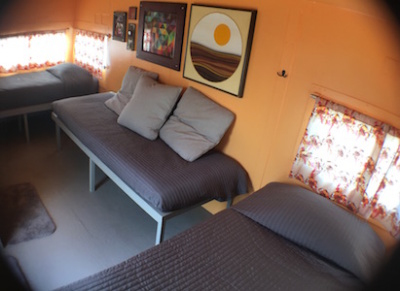 Flying Locust
Slumber party. Three single beds, with room to breathe. The original winged wonder of the fleet, we brought this out of retirement on a farm for some festival fun.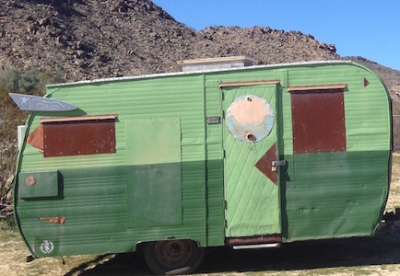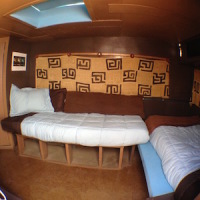 Green Tortoise
Cave like for maximum sleep enhancement. Two single beds, a closet and a bench. Toured the west coast festival scene for a few years, but the tortoise keeps it local of late.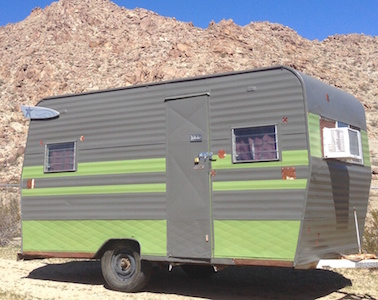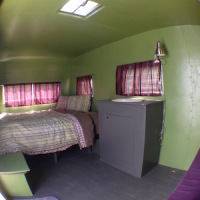 Hillsider
This dream inducing cozy rolling home was rescued from a "collector", and has a queen sized bed and a couch.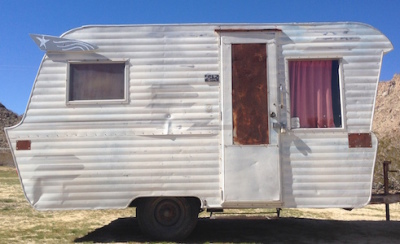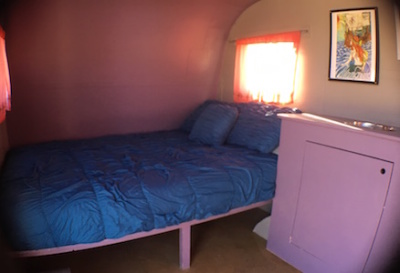 LynCraft
Also rescued from a 'collector' here in Joshua Tree, this curvaceous cozy camper has a queen sized bed and a couch. Great for couples, but couch is a cozy sleep for a friend.
---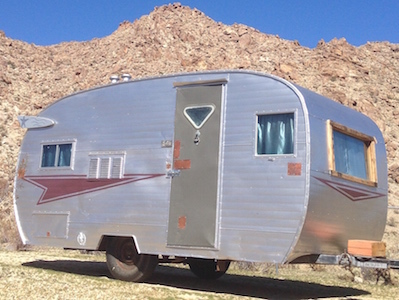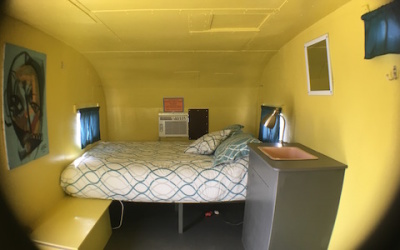 Lil Gem
This little cruiser was found in Morongo Valley, and brought up to the higher desert for a new career in music festival housing. One queen bed, and one couch, with a monster cute swoosh of a tail on the back.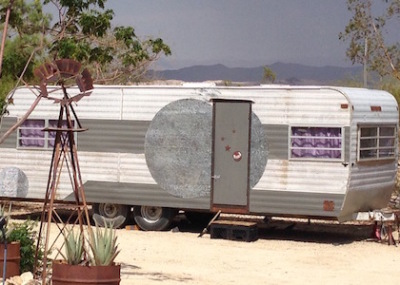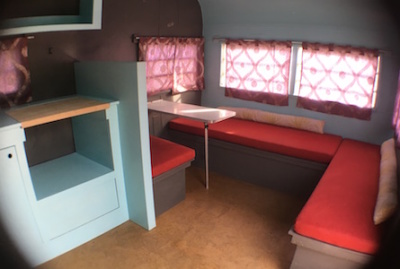 Mobile Scout
Super sized trailer, queen bed in the back bedroom, a kids bunk, and a front couch. Lots of room to be all you can be.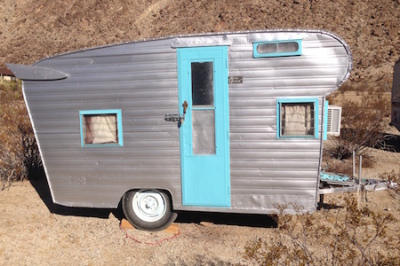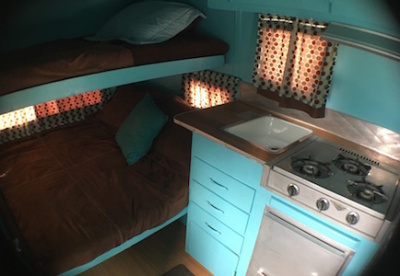 Nini Winnie
A proven road warrior princess, this trailer has been to more music festivals than Carlos Santana. One queen bed, optional fold down single, and a stove. Pound for pound, the Nini Winnie brings it.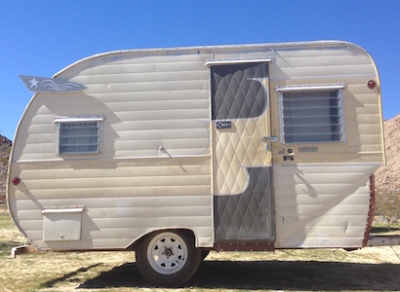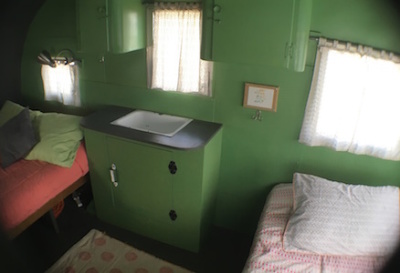 Oasis
Ultimate curvy design for two, with one queen bed, two benches and a table at the front bay window. A proven sleep aid, this beauty came into our lives after a long life of living in the woods near Quincy, Ca.
---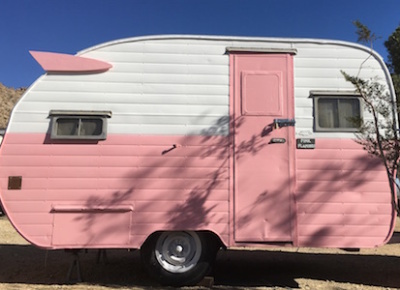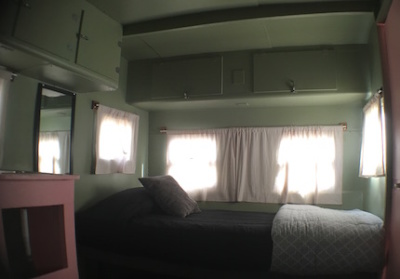 Pink Flamingo
Researchers have learned that Flamingoes with the most dance moves have more baby Flamingoes. An irrelevant factoid, but perhaps one can learn from the pink beauties.  A real looker, the Pink Flamingo has curved edges to take the harshness out of a world so many try to make linear.  Sleep tight and dream of more dance moves.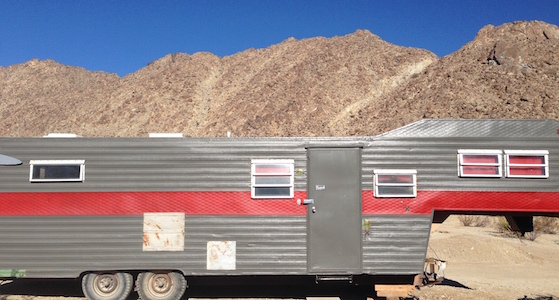 PipSqueal
Largest in the mobile comfort fleet, this 5th wheel has two singles, a queen and super large couch for another bed. This mobile home was nestled comfortably in the Bartlett Mountains of Joshua Tree for some time, recently liberated to join in on the festival fun.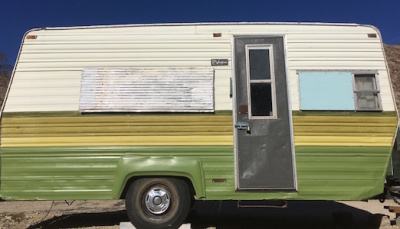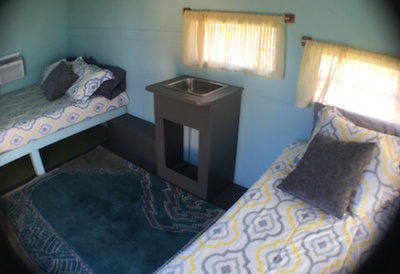 Purr Vaughan
This burner alumni tired of the Playa, and has found a more enriching life at the smaller, more intimate JTMFs. Gifted to us by our dear friend and colleague, Buttercup, Purr Vaughan has taken on a new name marking the new chapter in her life.  You'll have to ask Buttercup what she used to go by.  This dreamsicle sports a full sized and a single sized bed.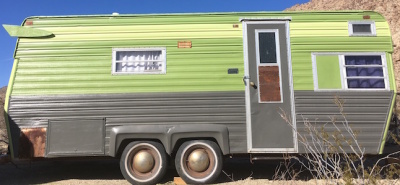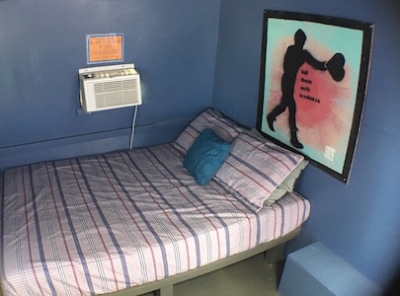 Quincy
Rescued from a quiet life in the forest outside of Quincy, CA.  This dreamtime cruiser is spacious, for those with expanded minds.  Features one full sized bed, and one single sized, at opposite ends of the trailer.
---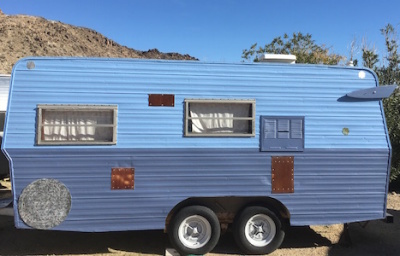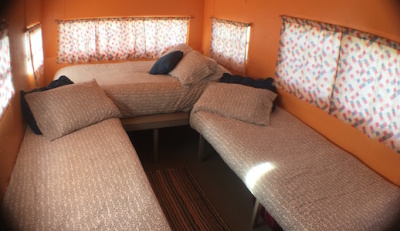 ReDoug
One queen sized bed, and two singles, this one was made for a slumber party. This one lived at the festival campground for years. We sold it to Doug, then bought it back. The ReDoug.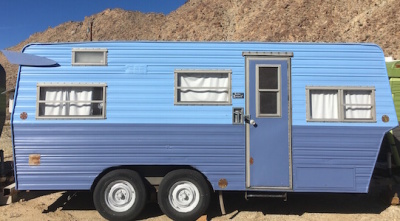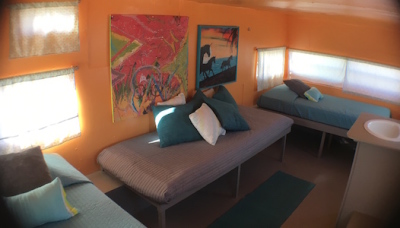 Rice Rocket
Slumber Party ! This mid sized model has three single beds. Carl Rice (aka Rice Rocket) bequeathed us this spacious gem after he upgraded his own personal living space.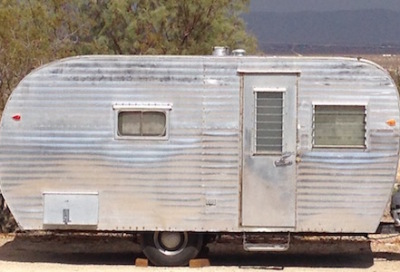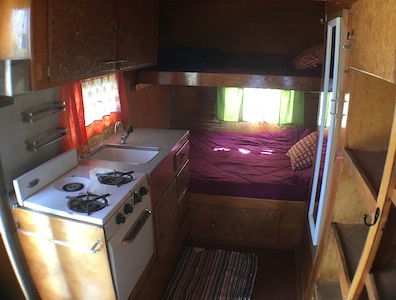 Silver Bullet
Mid sized magic on the road. Queen sized bed, optional drop down single bed, kitchen table with benches, closet and a stove. The Silver Bullet lived at the festival grounds for a few years, and spent last summer on the road traveling to music festivals.
---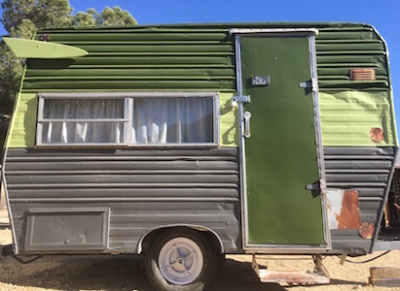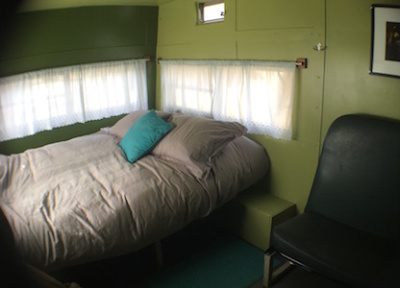 Taj Mahal
Big name, small frame. Named after that famous place, but more so after it's first tenant (yay, Taj !). A friend called this home for years, til he recently purchased a house (without wheels). Queen sized bed.
---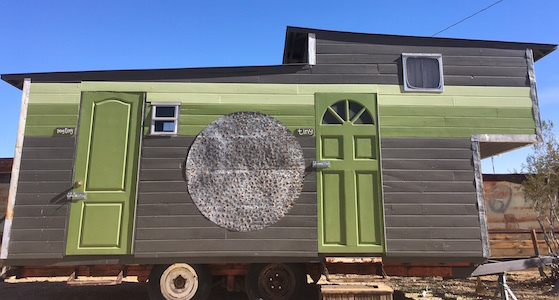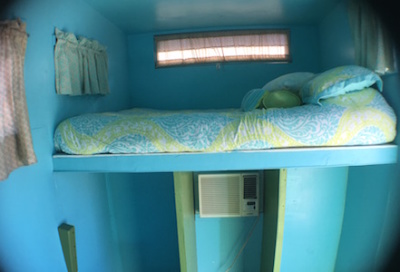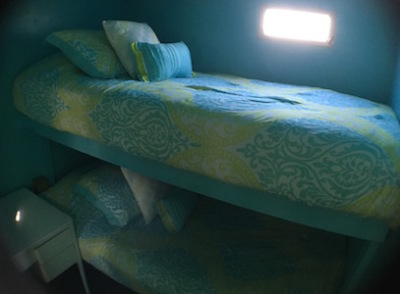 Tiny & Teeny Tiny
Sporting an ironic moniker, this two roomed rolling palace has a bunk bed (singles) in Teeny (back room), and an uber cozy queen loft  (with windows all around).  We built this ship from the ground up after scoring an old water tank trailer bed.
---
 Coop Da Chill
An air conditioned sleeping pod with a queen sized bed and windows on all sides. Shelving, room for your luggage inside, store your cooler and camp stuff underneath.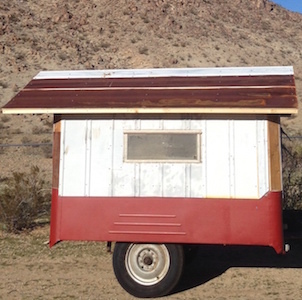 Coop Da Ville
A single bed, windows on all sides, shelving and AC unit make this highly mobile unit a mad cozy camper.
Map
CLICK HERE TO VIEW THE MAP IN GOOGLE MAPS
[/vc_column]